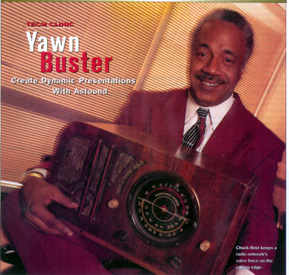 Success Magazine, April 1997
Three years ago Chuck Reid's General Manager David D'Eugenio stopped by his desk and asked, "What do you know about the Internet?" "The what ?" Reid replied.
Back then, Chuck Reid, the Creative-Services Manager and Internet System Manager for Clear Channel@Palm Beach in West Palm Beach, Fla., was using desktop publishing to make paper and slide presentations for the radio network's ad salespeople to take out into the field. He didn't know about the Internet, but he wanted to explore new ways he could use technology to attract advertisers to the network. So, with a little prodding from his general manager, he researched software packages and decided to pick up an early version of Astound, a $250 multimedia authoring program from Astound Incorporated.
Forget about those yawns your presentations might have evoked in the past. With Astound , you can create 3-D charts that tumble and grow, bounce and spin into place. Animate objects or make text slide across your screen one letter, word, or line at a time. Turn buttons, shapes, or pictures into "hot" buttons that are linked to a new animation or screen. Then add music, voice-overs, and video to grab your audience's attention.
Using Astound, Reid put together an interactive minimovie about Radio 1 that included photos and bios of the network's deejays, as well as audio samples and statistics aimed at potential advertisers. Click on a button, and an advertiser could see where Radio 1's stations stood in the ratings with various age groups. One month after his general manager asked him what he knew about the Internet, Reid demonstrated what he'd created. The general manager was amazed, and they both realized he'd hit on a powerful selling tool. Not only could salespeople use the minimovie for presentations on their laptops, but it could also function as the station's Web site www.radio-1.com and, with a few additions, as an interactive kiosk to attract listeners and involve them in the network.
The common catch with programs as powerful as Astound is that they're difficult to learn and use. But Astound is not aimed at techies. "The manual talks you through the various steps," Reid says, "In two weeks you can get the hang of it." If you don't have the time to create a presentation from scratch, Astound includes more than 100 preanimated presentations. Simply replace the dummy copy and graphics with your own.
Some of these canned presentations are fully functioning Web sites that can be put up on the Internet without modification, so you don't have know HTML or any other complicated programming language. All Astound-made sites are compatible with the leading Web browsers.
Reid's presentations have been so effective that after seeing them, some clients bought not only airtime on the network but a copy of Astound to create a presentation for their own products. Meanwhile, Reid says, many of his competitors' salespeople are still lugging around their cardboard pie charts, and that just doesn't cut it anymore. "If one salesperson walks in with 30 pages of typed text on paper, and another walks in with a slick on-screen presentation," says Reid, " it's the second guy who blows them away."
Back in his desktop-publishing days, Reid wished he could create a separate pitch for each salesperson that would match his or her personal style of selling. With Astound, he does exactly that. "They just have to push the right buttons," he says, "and I sell for them."
END OF ARTICLE

E-MAIL To Chuck Reid

Exit